Wish List
These are fanlisting subjects that I love and that I would wish to own.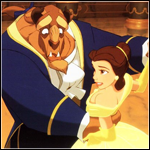 Beauty and the Beast
What can I say about Beauty and the Beast? Once I get started talking about this beautiful movie, I can go on and on for ages. From its amazing visual beauty to its emotion and brilliant characters, this movie is perfect. This movie means so much to me. When I first began webdesign, this movie had a special place on my website. As the years went on, I decided to make a fansite for this movie, and the reason why I have a website today, why I still practice webdesign, is because of this movie. I have devoted so much of my time and love, and I know I will continue to do so, because this movie makes my heart burn and my eyes tear up and my throat tighten continuously, no matter how many times I watch it. I would love to one day run the fanlisting for this movie.

GIR
GIR is a little robot that works for an alien invader named Zim in the animated television show, Invader Zim. Even though the show aired originally in 2001, I have just discovered the show because of my nieces and have been watching it on YouTube and on NetFlix. GIR is absolutely the most adorable character I have ever come across. He is sweet, loves tacos, waffles, cupcakes, pizza, and piggies, and he is just so full of joy and life. How can you not love something so fun-loving and sweet?